This January I decided to set a goal to read 50 books this year, and have since been reading away. While not all the books have been children's books, these past few months I've been picking them up more. Around this time of year, as the season changes, I find myself drawn to stories that lean towards being a bit darker. I want some mystery. Maybe a creepy house, a twisted fairytale, or something just weird. I found what I was looking for in Anya's Ghost by Vera Brosgol, The Scandalous Sisterhood of Prickwillow Place by Julie Berry, and Nooks & Crannies by Jessica Lawson.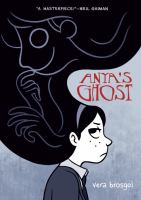 Anya's Ghost
is better suited for older readers. We consider it a YA novel, because of the cigarette smoking, and some other mature content. However, it's a great story of Anya, a first generation Russian immigrant, as she deals with her cultural identity, being a teenager, and the creepy events that happen after she falls down a well, and finds a human skeleton.
The Scandalous Sisterhood of Prickwillow Place
is a super fun murder mystery. The students of St. Etheldreda's School for Girls face a harrowing situation, as their headmistress and her brother drop dead during dinner. Do they tell someone what's happened and face being separated from each other, or conceal the murder, and pretend all is well? Set in Victorian England, it's a fun read full of great characters.
Nooks & Crannies
is Charlie and the Chocolate Factory meets the board game Clue. Tabitha Crum a smart, mystery-loving girl is unloved by her parents. With no friends besides her pet mouse, Pemberley, she sets out on an adventure after receiving a mysterious invitation to the country estate of the wealthy, and reclusive Countess of Windermere, whose mansion is rumored to be haunted. She finds herself among five other children, unsure of why they've been invited. Soon, a large secret, one that could change their lives forever will be revealed, but not before Tabitha's investigative skills are put to the test.
As a Librarian and lover of books, I often get swept up in the newest book that we've got in, and completely ignore my own bookshelf at home, which is full of books I've meant to read, but haven't got to. While trying to get back to the I've-been-meaning-to-read-this-for-5-years-or-longer book, I picked up the classic, Heidi. The copy I have was once my grandmother's, which she has since gifted to me. Published in the 1945, the book has beautiful illustrations, and makes reading a classic even more enjoyable. I found Heidi's innocence, and positivity to be very inspiring, and found great joy in reading a story that's 134 years old. Having not given travelling to Switzerland much thought previously, I now think travelling through the Swiss Alps would be an incredible, and restorative experience, just as it was for Heidi.
In keeping with reading classic Children's literature, I also recently picked up The Wind in the Willows by Kenneth Grahame. I found the friendships between Mole, Ratty, Badge, and Toad to be most amusing, and somewhat inspirational. I found a certain honesty, and introspection to the characters and the writing that I haven't read for a while, and very much enjoyed.
Here are some other books I've read, and really enjoyed:
The Nest
by Kenneth Oppel